Three Ending Cloverfield DVD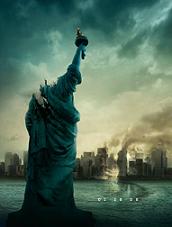 The much-awaited release of the Cloverfield DVD set will be hitting stores on April 22 and — as is the way with such things — it will feature numerous extras, commentary and features in order to woo the consumer who simply won't buy a film without a commentary by a film's grip.
But Cloverfield's DVD release looks to be special. One of the most touted extras on the disc is the addition of two endings, each wildly (or, perhaps, conservatively) different from the end shown in theaters.
It's hard to imagine what these two new endings could be. Cloverfield seemed to end pretty much the only way it could… with a blundersome example of idiocy from the U.S. Military as the last resort against an unstoppable monster.
Also included in the DVD will be a commentary by director Matt Reeves, featurettes on the making of Cloverfield, an assorted array of additional scenes and all that Slusho! viral marketing crap that had nothing to do with the movie.
Cloverfield DVD Will Have Two Endings [Cinematical]
Read More