This Week on DVD: Sweeney Todd, The Skull, April Fool's Day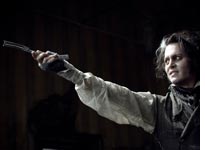 Reviews of Sweeney Todd are more fun to read now — the praise glows warmer and the snark cuts deeper when you're measuring it against your own opinion.
"Though all three stars have clearly been chosen for their acting skills rather than their singing voices, the earthiness of their vocal performances keeps the film grounded in the grit and grime of a world that grinds up the innocent and the guilty alike." — Keith Phipps, The AV Club
"From its magnificently gory credits to its climactic bloodbath pietà, the director makes it clear that this is his meat…Sweeney Todd is a movie of bombastic, impossible camera moves and rhapsodic yuckiness." — J. Hoberman, The Village Voice
"As human beings — the vermin of the world who inhabit it — we're not part of the solution, we're part of the problem, and so maybe this dingy, uninteresting movie is all we deserve. Welcome to the dark side. That will be $11.50, please." — Stephanie Zacharek, Salon
This
week Legend Films releases some old-school chillers that haven't seen
the light of day since Christopher Lee was a spring chicken. In The Skull, the haunted head of the Marquis de Sade puts in a guest appearance.
"There is a maxim among low-budget filmmakers that "talk is
cheap". Due to a lack of money, time and resources, this usually means
that events are often verbally described rather than shown… Freddie
Francis's The Skull tends to stand out from similar ventures since this adage is not followed." –Lain Maclachlan, britmovie.co.uk
"The very first scene tips the story's one and only surprise — that
the skull is possessed — if the publicity campaign hadn't already. And
from there on all that's left is Freddie Francis's uncustomarily
heavy-handed atmosphere, aided by an equally overblown score." —
Richard Scheib, Moria
"Although the body count is on the low side, it is still an
effective psychological horror that works on our innate fear of madness
and possession by evil influences." — Maverick Media

Many thought the original April Fool's Day
was a cheat. A straight to DVD release, the 2008 homage has a lot of
bad karma to overcome, but I think it's going to be a huge hit — April
Fool!
"The viewer doesn't see anything in this 'Unrated' cut of the film that they can't see in a syndicated episode of Law & Order or a 15-year-old music video." —dvdverditct.com
"Everyone was surprised that it didn't go into theaters — having
seen it, it's more amazing that the studio ever even considered it." —Horror Movie A Day
"April Fool's Day certainly has everything going against
it, yet somehow manages to emerge as a mostly entertaining and
subversively sly nod to the popular '10 Little Indians' styled
mysteries of the 1970s." —Horror.com
Read More