The Thing About The Thing: Fraternal Twin of Alien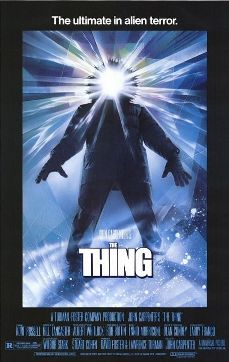 When I was younger I never got around to watching The Thing, because the premise– an alien that could take the form of whoever it wanted to– seemed suspiciously like an attempt to get away with as few creature effects as possible. The poster only added to my suspicions, presenting just a regular human form defaced by a flash of white light. "You're going to have to try harder than that, John Carpenter," I thought smugly with my feeble teenaged mind. I tell you this not only as evidence of my own periodic lameness, but as an attempt to shepherd other equally deluded horror fans into the land of truth: The Thing is one of the scariest films out there, with more imaginative and gut-twisting special effects you could ever hope for. Consider this my public atonement, Mr. Carpenter, sir.
In truth, The Thing and 1979's Alien
are like fraternal twins, with similar settings, characters, monsters,
and source material. These two movies orbit around a dark truth in our
nature — that we don't understand our own humanity enough to defend
it. It can vanish — or even be stolen — practically overnight, which
both these movies demonstrate by presenting ghastly aliens that look
like humans literally turned inside-out (a perk for those of us who
fall hard for scary monsters). Perhaps the only reason The Thing has been eclipsed by Alien in the long run is its lack of sequels. Surely if someone had gotten around to making The Things, Thing 3, and The Thing: Resurrection, I would have gotten around to checking out the original much sooner!
See for yourself when The Thing airs Saturday, March 22 at 12:15AM | 11:15C. For a full schedule, click here.
Read More