The Terror of the Tongs and More Hammer Films to Hit DVD in 2008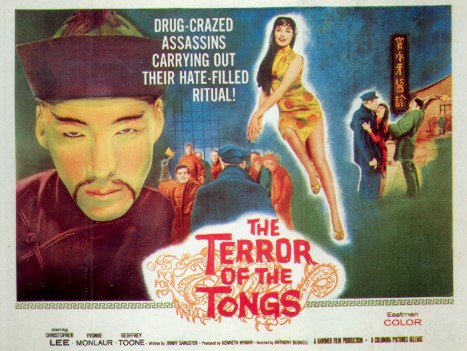 England's Hammer Films was well known for its horror films — Horror of Dracula and The Curse of Frankenstein , but most casual fans are unaware that the studio produced films in several other genres as well. Their Quatermass series is among the best British science fiction ever made; the numerous mysteries they produced in the early '50s were recently issued here from VCI Entertainment.
One genre they did pretty well with for a while was adventure — the old-fashioned Technicolor swashbucklers with pirates and maidens fair, and Christopher Lee as (what else?) the villain. These titles have never been available on video in the States, but according to DVD Drive-In, they're making their way to DVD in a four-disc set some time this summer (street date TBA).
The titles (all from Sony) include three Christopher Lee titles: The Terror of the Tongs , Devil Ship Pirates, Pirates of Blood River, and the Lee-less The Stranglers of Bombay . Stranglers
is one of the most demanded of the Hammer DVD titles, thanks to its
brutal violence (for the time) and unapologetic racism. All the films
are said to contain audio commentaries and other special features, in
addition to being uncut, wide-screen presentations.
A Hammer horror box set from Sony is also said to be in the works for Halloween, so start saving up now.
Read More