How to Feel Normal in a Trench Coat, Post-The Matrix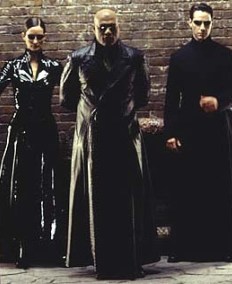 So you bought a long, black leather trench coat back in the pre-Matrix, pre-Columbine days when it was the epitome of cyberpunk rebel fashion — and now this expensive item is hanging in the back of your closet, looking more like a dated Halloween costume than something you'd wear out on the town. Will anyone ever look sharp in a leather trench coat again, or is this look a permanent casualty of pop culture self-consciousness?
The advice gurus on AskMetaFilter tackled this subject recently when someone inquired what to wear with such a coat in order to sidestep the Matrix-poseur stigma. Clearly this is a polarizing subject, as the responses run the full gamut from encouraging ("Dark blue jeans, not black, white dress shirt or t-shirt. Walk with pride. A black leather coat is still fairly neutral; the length makes it unusual, but not unwearable.") to forbidding ("You cannot wear it to anything except an anime convention.") but apparently there are some constructive options that will have you looking your best in no time:
1. Sell it. The internet is full of people who are less
discriminating or harder to embarrass. Making a few bucks on eBay to
spend on a new coat that matches your current style is the quickest way
to put this whole painful business far behind you.
2. Tailor it. Having leather altered can be expensive, but a trench
coat shortened to a wearable length could last you many more years, and earn a place at the front of your closet instead of the back. ("Then you can always have the leftover leather made into a second item,
maybe a vest or a belt," helpfully suggests AskMe user GrammarMoses.)
3. Rock it. "Fashion is wearing what other people think you should wear," says Morrigan,
"And style is knowing what you like and wearing it." This advice is as
solid now as it was back in 1999. Lack of confidence is, as always, the
greatest fashion faux pas.
In the meantime, relive the glory days when The Matrix airs tonight, March 12 at 8PM | 7C. For the full schedule, click here.
Read More