The Last Palm Tree Blog: Quarantine's Viral Marketing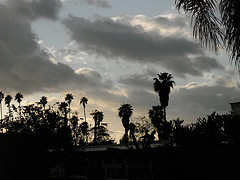 First, Sony put up a mess of videos on YouTube to promote their upcoming horror film, Quarantine. Today, they put up a blog, The Last Palm Tree, to further infect you with the horror spirit.
The actual idea for the vlog is pretty cool, in a Blair Witch kind of way, although most of the videos have been run-of-the-mill: "Can you tell me where to find a good restaurant" is the subject of one. Another video, "Case 1017," features amateur camera work, but on the street, you'll see something suspicious: Government types wearing Hazmat suits and searching a building. Then — a shot rings out.
The blog, supposedly written by a retired missing persons
detective, has 21 posts, all a little mysterious, and some quite
creepy. A woman is desperately seeking her husband in one post, and
there's the answering machine message to prove it. There are links to
photos of the mystery on Flickr, but they don't reveal much. Meanwhile,
the blogger is getting sick. All in all, the viral marketing is nicely
done, although you do wonder, What do those palm trees have to do with Quarantine?
Read More