The Eyes Have It: New Trailer for Terror Train Remake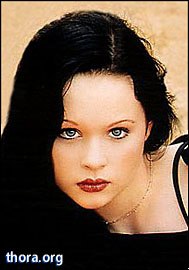 There's been some discussion at Cinematical as to whether Train is really a remake of Terror Train. Forget semantics: Train sure looks like a remake. This new red band trailer for the upcoming horror film has already been banned on YouTube (which is where Cinematical linked less than a day ago). The trailer, complete with blood and brief nudity, is now up on MovieWeb.
Train features Thora Birch, who can act with more believability than many young Hollywood actors — so that's a plus. In the clip, there's a ton of gore, including the removal of an eye. What is it with eye-pulling these days? It's in everything from Borderland to Art of the Devil 3. Frankly, it's not scary, just gross. And that's the general tenor of the trailer: Not scary just gross. Birch might be worth watching, but is viewing the same old torture porn (as is evidenced by the bloody trailer) the best way to spend your movie dollar?
Read More