Super Friday: Filmmakers and Talent Arrive in Dallas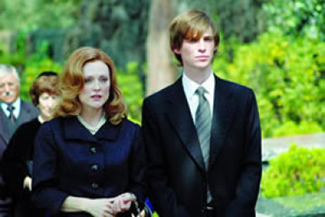 According to the AFI Dallas programmers, there are going to be more filmmakers and talent in town today than any other day of the festival. That's why some staff have been referring to it (with a bit of trepidation) as Super Friday.
One example of a high profile film accompanied by well-known talent is Savage Grace, starring Julianne Moore. Based on a true story, the film is about the deeply disturbed Barbara Baekeland (Moore) and her failed marriage to Brooks Baekeland, the heir to the Bakelite plastics fortune. (Not to mention her incestuous affair with her schizophrenic son, Tony.) Here is what Moore said about taking on such a challenging, high wire role:
"[T]his is really dark. As an actor, you can't approach it other than to say she was a real person… It was really important to me that, rather than striving toward the
darkness, which is sort of constantly there, there was this vibrancy
about her. I felt a real responsibility to make her a real, living
person.
Among the documentaries unspooling today is Flow, a
fascinating — and terrifying — investigation of the water shortages
which will plague the next decade. Unless some revolutionary water
strategy is devised soon, a constant state of warfare over water can be
expected. Another highly anticipated doc (with obvious local appeal) playing tonight is Crawford, an examination of President Bush's hometown and the affect his presence has upon it. Screening at the same time will be Gonzo, a portrait of the legendary Hunter S. Thompson, from producer and AFI honoree, Todd Wagner.
In the shorts category, there's Josh Brolin's X. "I'm proud of the stark nature of this film, how it explores the parent-child relationship," Brolin has said. Nash Edgerton's acclaimed short, Spider, which won the grand jury prize at AFI Fest in Los Angeles, will also play as part of the program.
Personally, I am most excited tonight for the American indie film, Goliath,
from Austin-based siblings David and Nathan Zellner. I'm a huge fan of
the their work, which has screened all over the world, including last year's AFI Dallas.
The full lineup of films can be found at http:www.afidallas.com
Lane Kneedler is a programmer at AFI FEST.

Read More