Stuck: A Local Story Hits the Big Screen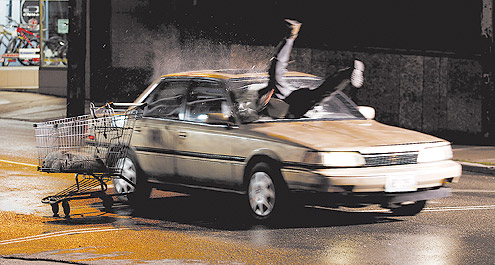 One of the biggest draws of the festival tonight is Stuart Gordon's Stuck. I'm a fan of Gordon's earlier films (Re-Animator, Castle Freak), but I think most of the Dallas locals will have a different motivation to see this film. Stuck is the story of a woman who hits a homeless man with her car and then drives home and parks in her garage — while the dying man lies trapped in her windshield, begging for help… and it's based on a true story.
The real world incident happened in Fort Worth, a city just a few miles north of Dallas. A controversy about the creative decisions behind the film is also piquing interest. Regarding the reality versus the film, Gordon told Bloody-disgusting:
"The general idea is pretty accurate, and I would say the first half of the movie is pretty close to the reality, and then we kind of went our own way with it. We were working on this for a couple years, and first we were keeping it very close to the real events, and then one day we said 'What if this happened instead of that?'
Peter Martin has an excellent summary of the controversy from a local perspective here on the Cinematical site.
Raising the level of discourse, film critic Elvis Mitchell arrives in Dallas for the screening of his documentary, The Black List. It's a fascinating series of mini-portraits of 20 influential African Americans from a broad variety of issues. Speaking with Emmanuel Levy about the value of showcasing a film like this in a festival setting, Mitchell said, "Festivals are a place to see something new, without being assaulted by information that gives the game away entirely. I'm hoping that audiences will let themselves be surprised by The Black List."
I could not agree with Elvis more. The surprises are the best part of any festival.
Lane Kneedler is a programmer at AFI FEST.

Read More