Stephen King on Horror Movie Hell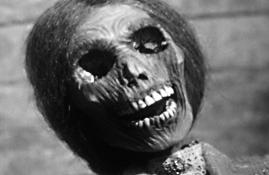 In his latest column for Entertainment Weekly, Stephen King writes about his worst entertainment experiences, like the time he sat in a theater and really, really believed that Norman Bates' mother "in all her shriveled, eyeless glory — was sitting directly behind me and would soon reach out to stroke the back of my neck." So, "who else had bad pop culture experiences?" King wondered.
He put the question to readers and they responded en masse: Ayla
writes about the creepy time Courtney Love thought she was bitten by a
monstrous Australian insect and ran off the stage screaming. Sounds
like a scene from a Cronenberg movie. Then there's Kelly's story about going to see Alive, the
movie about cannibalism in the Andes. I'm reticent to tell you what
happens here because, well, it's gross (albeit humorous). But you can
take a look for yourself.
What's your favorite Stephen King movie?

Read More