Star Wars TV: "Deadwood Meets Sopranos"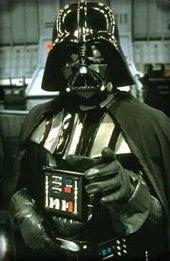 A Star Wars live action television series seems like a sure thing, doesn't it? What network wouldn't drool for something like that? Yet no network has signed on for George Lucas' latest Star Wars project. Why is that? The narcissistic personality of the series creator might have something to do with it, surely.
Still, there are bids. Showtime and HBO are reportedly among the front-running networks possibly willing to pay Lucas' asking price. But what's most bizarre is the description of the new show. Ready? I don't think you are.
Deadwood meets The Sopranos.
What? What?! WHAT?!? That evokes images of foul-mouthed, filthy, syphilitic hicks eating pasta and scratching the underside of their chins with the back of their fingers in a sweeping upwards gesture.
Granted, it's a rumor, and maybe the stupidity of that slugline indicates its falsity. Firefly meets The Sopranos would be much more plausible…. not to mention excellent.
Star Wars Animated and Live-Action News – Collider Exclusive [Collider]
Read More