Star Trek: Year Four Hits Comic Stores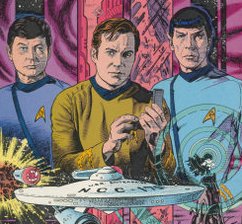 It seems that Star Trek: New Voyages won't be the only Star Trek spin-off re-christening itself the spiritual successor to the original series: IDW Publishing, a comic book house, has announced Star Trek Year Four.
Like Joss Whedon's successful Buffy Season 8 and Angel Season 5 experiment, Star Trek Year Four will offer readers a serialized fourth season to the original Star Trek series, picking up right where the original series ended.
The first few issues will be written by D.C. Fontana, Gene
Roddenberry's old assistant. Called "The Enterprise Experiment," the
story line will be a sequel to the famous episode "The Enterprise
Incident," where Kirk goes undercover as a Romulan, replete with
painted on arched-eye brows, spray-painted tan and faux Roman capes, in
order to steal a cloaking device.
"The Enterprise Experiment" will focus on the Federation's attempts
to get that stolen Romulan cloaking device working on a Starfleet ship.
Needless to say, when installed on the Enterprise, it doesn't quite
work, and sucks the NCC-1701 into another dimension. Oh, and then the
Klingon Empire jumps in, looking for war.
Which all sounds pretty neat to me. Star Trek: New Voyages may have rechristened itself Phase II,
but that doesn't hide the fact that the actors are largely amateurs.
Give me a comic with Shatner and Nimoy any day of the week over a bunch
of cosplaying Star Trek nerds.
The Five Year Mission Continues [Slice of Sci Fi]
Read More