Species: Hitchin' a Ride on H. R. Giger's Ghost Train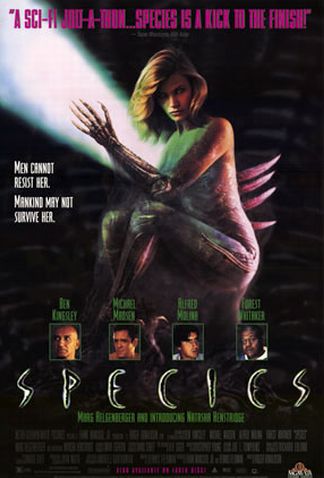 While many remember Species as
"that movie with the naked alien babe," hardcore sci-fi fans know
it as one of the few films to showcase the mad-genius design work of
Swiss artist H.R. Giger. (Not to mention one of the few films that
proves the old sci-fi maxim, "sex with alien babe equals gruesome
death by tentacle.")
Famously known for dreaming up the Alien who
got up close and personal with Sigourney Weaver, Giger also designed
Species's Sil (the
creepy alien lurking inside Natasha Henstridge) as well as
the film's nightmarish ghost train dream sequence. But it was with this
sequence that the iconoclast artist (who also created
controversial album covers for everyone from The Dead Kennedys to
Emerson, Lake & Palmer) began to butt heads with MGM Studio.
Long obsessed with the idea of a "ghost
train" (even developing early versions for Alejandro
Jodorowsky's aborted version of Dune and Ridley Scott's proposed film
The Train), Giger finally got to put his creation to the test during the production of Species. While the studio was adamant about
creating the train with cheap computer graphics, Giger dumped
$100,000 of his own money into developing a working model
locomotive and station. Unfortunately, due to time and budget
constraints, Giger's alien skull-and-bones train only appears in the film for a few fleeting
seconds.
Years later, Giger again took MGM to task for design changes made in 1998's lackluster Species II
and insisted on only being credited with the "original Species design"
for future installments. Sorry Sil fans, but that wasn't his design
work you saw in
2007's direct-to-DVD fourth-quel Species: The Awakening .
Species airs Wednesday, Mar. 12, at 11PM | 10C. For the full schedule, click here.
Read More