South Park Goes Heavy Metal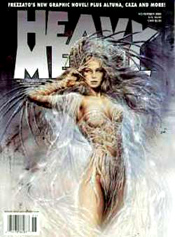 I've been looking for a reason to link Matt Stone and Trey Parker's recently launched South Park Studios for a while. Tired, in their words, of constantly having to steal their own television shows when they wanted to download an episode, they have generously and brilliantly released every episode of South Park ever free, online.
Which is great and all, but it doesn't really intersect with science-fiction… except that the latest episode of South Park was a genius parody of possibly the most ridiculous, misogynistic and, well, just plain French animated film of the hair '80s, Heavy Metal.
Fair warning: if you do not find the thought of a cartoon in which a balding Jewish man dressed only in his underpants fights a fourth grader to the death in a Coliseum shaped like a gigantic human breast to be a tasteful example of sophisticated parody, this won't be the right cartoon for you. But for anyone who ever sat through Heavy Metal, this is just spot on.
Watch South Park Heavy Metal Parody [South Park Studios]
Read More