Sneak a Peek at The Hulk Video Game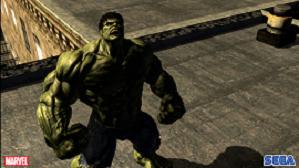 Looks like Geoff Keighley is getting quite an exclusive this Friday on his late night Spike TV series, Gametrailers: The much-anticipated premiere of The Incredible Hulk video game, which ties into the Ed Norton movie. But there's more to it than that.
Judging from the teaser for the show, it looks like Iron Man (who has his own movie out this summer) will make an appearance in the game. Most movie to video game efforts are middling at best, but from the snippets in Keighley's promo, the Hulk looks good — in an angry green monster kind of way. At about 20 seconds in, you'll see various pieces of concept art for the game. A bonus in the promo is footage from the Iron Man game as well.
But Sega's really going to have to go the extra mile to outdo the last Hulk game which was based on Ang Lee's 2003 movie. In that offering, you had bombastic scares and inventive game play — not to mention that great dream sequence where the Hulk destroys a battalion of soldiers as if they were mere flies.
Read More