Snaked Comic Slithers to Big Screen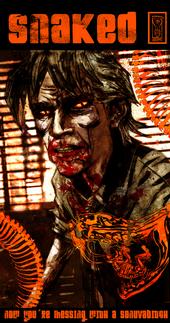 Politics and horror? It's certainly happened before in the movies, especially when the Cold War was in high gear. While horror and politics don't often mix so well in film unless it's in a post-apocalyptic setting, former Dimension executive Richard Saperstein is willing to give it a try. According to Fangoria, Saperstein has optioned Snaked, the odd, dangerous and witty graphic novel from Clifford Meth in which the lead character is able to change into a reptile in order to deal with a world of nasty politics, backstabbing friends and unfaithful women. It's quite a coup for creator of the horror series, which has had only two issues to date.
In an interview with Horror Yearbook, Meth says of his main character, "Timmons is an honest man working in the political mainstream who finds
himself dysfunctioned by the dishonesty of politicians. Everyone around
him is a bit of a snake… but he's the real deal insofar as he must shed
his skin from time to time, and he can swallow your whole head if it
isn't ridiculously large." Recalls Meth about Timmons' origins, "I snapped at some idiot one day and
they said, 'You don't have to bite my head off,' and I thought, 'How
cool would that be if I actually could?'" And so, an option-able horror comic was born.
Read More