Site of the Week: Slice of SciFi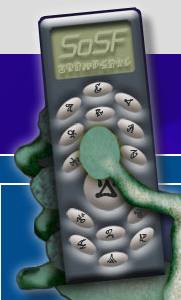 When a popular website wants to expand its reach or go after a new audience, a typical strategy is to start a podcast. Rarely does it work the other way around, but that's just how Slice of SciFi came to be. "In the beginning," says co-host Michael Mennenga, "the podcast was the focus and the site the supporting content. But it has just happened in the last year that the site has come into its own and overshadowed the show."
Actually, what would eventually become the podcast started as an Internet radio campaign to save Enterprise, the fourth television series in the Star Trek franchise that UPN pulled the plug on after a dismally low-rated fourth season. When Save Enterprise failed, the show and site moved to covering all matters sci-fi. A scintilla of the old mentality remains however, and the site is now embroiled in a Save Journeyman campaign. "The show now is very much the same as it has always been," says Mennenga. "The formula just worked, and we never felt the need to mess with a winning combination."
The site is a repository of Sci-Fi news, exclusive interviews,
contests and polls. The podcast realm has also expanded, and in
addition to the regular show, Slice now hosts a call-in show, Slice of
SciFi Voice Mail. "We have very loyal fans and active listeners,"
Mennenga says. "And we tend to listen to what these people have to say.
We've made adjustments to topics directly due to listener comments. I
pull no opinions that are in contrast to ours. If someone hates what we
do, I let them say it."
One of Slice of SciFi's more popular features in recent months has been
the Science Fiction to Science Fact section, which illustrates how
quickly technology is catching up to our imaginations. "Many tenets of
what we loved as kids are now the reality of our world," Mennenga says,
explaining the popularity. "But what really gives SoSF the edge is the
sheer mass of information that goes on our site. You know that if it is
geeky sci-fi or just interesting sci-news, it'll be on the site." What
more could you ask from a radio show?
Read More