Site of the Week: SF Signal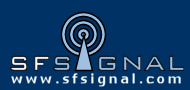 The Internet, it seems, was made for science fiction. It is a pulsating, planet-wide hive-mind of cybertronic information the likes of which Isaac Asimov could scarcely dream. And yet, sifting through the billions of websites online there is a surprising dearth of great sci-fi content. That is, except for SF Signal, which since its launch in 2003 has been the alpha and omega of science fiction blogs on the net.
Operated by the brilliant John DeNardo and his enigmatic compatriot — a mystery man cloaked in shadows and known only as JP — SF Signal is one of the most authoritative and comprehensive sci-fi blogs, even with megasites like io9 publishing multitudes of spoilers and thirty separate lists a day. First looks can be deceiving: while other blogs run loose with post after post, SF Signal rarely updates more than a handful of times a day. But each is a virtual lexicon of the science fiction news, happenings, analysis and reviews.
How did it get started? From humble beginnings: Accoring to DeNardo, "JP had the idea of jumping on the blog bandwagon. I wondered whether anyone really wanted to know details on our personal lives. He suggested a themed blog and, since we both like science fiction, SF Signal was born. Well, hatched would be more like it. The idea was that we could have a place to share sf-related things, kind of the web-based equivalent of shooting a 'look at this' e-mail."
It may seem that in the current blogosphere, where posts run rampant, diggbait is ubiquitous and everyone seems intent on drowning everyone else out in volume, SF Signal might not fit in as well as it once did. But the site is the perfect digest for sci-fi fans: a concise, one-stop source for everything happening in the genre. "When we started SF Signal," DeNardo says, "we were trying to convey the idea of sharing information." SF Signal succeeded. The bottom line is that no sci-fi blog on the conveys the same wealth of information in such a compact, elegant package.
Read More