Danny Glover's Best Year Was 1985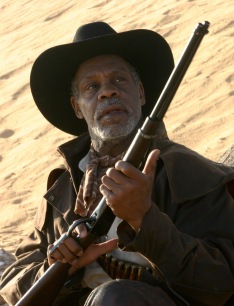 At the tail end of 1984, Danny Glover was just another struggling actor with the occasional appearance on television and bit-parts in movies — but when things turned around, they turned around in a hurry. In the span of one year, Glover starred in four huge films, solidifying his career as a character actor of great depth and surprising range.
His marathon year kicked off with Places in the Heart, in which he played a drifter who becomes indispensable to Sally Field's plantation widow. Perhaps a little of Field's Oscar-magic rubbed off on him: Faster than you can say "You like me," Glover found himself chewing scenery as Harrison Ford's foil in the crime drama Witness before returning to period attire to star in two more crowd-pleasers, Silverado and The Color Purple.
Silverado signaled his arrival as a Hollywood actor,
placing him on equal footing with rising stars Kevin Kline and Kevin
Costner in what critics hailed as a true revival of the great American
Western. By the end of 1985, almost everyone had seen Glover in at least one of these four roles, cementing a career
which has kept him hopping ever since. Was it out of pure nostalgia for
the good old days that he recently picked up a rifle again for a
Western sequence in Bamako? Can't say I blame him: 1985 was a pretty good year.
Enjoy some vintage Danny Glover on AMC this week with Silverado, airing tonight, March 15, at 8PM | 7C, and Witness, Monday at 8PM | 7C.
Read More