Should Peter Berg Remake Dune?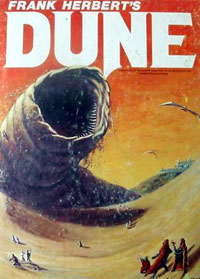 Oh how the spice flows! First, there was the David Lynch-directed Dune . It was somewhat boring, yet still has a cult following of fans. But those Sandworms — a more disgusting invertebrate would be hard to find in film, to be sure (and if you forgot how monstrously vengeful those worms could be, check out the clip after the jump). Then came Frank Herbert's Dune, a miniseries done for the SciFi Channel that had less style and was frankly less tantalizing. Now, Variety is reporting that the Sandworms are coming back in a Peter Berg-directed remake.
But before you go dyeing your eyes blue, know that there are some early warning signs that Berg's Dune may not deliver on all your hopes and dreams. Variety reports that one of the producers (Richard Rubenstein) worked on the SciFi Channel offering, which is not a particularly pleasant thought to digest. Also, the team is now looking for a writer, so the project is very early in its gestation and given Hollywood's meandering attentions, could never lift off the ground. In addition, Berg hasn't done much monster-related directing, though he did co-star in a middling horror film called Shocker .
Yet hope remains: Berg did direct the pilot episode of one of the most underrated, most intense psychological TV thriller shows of all time, Wonderland. It was a short-lived, controversial show about life in a mental institution. For that reason alone, maybe he should be given the benefit of the doubt with Dune.

Read More