Rod Serling Inducted Into Sci-Fi Hall of Fame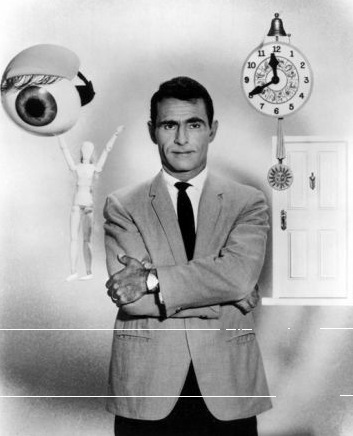 Short of Gene Roddenberry, it's hard to think of a single person as influential to the evolution of science-fiction in television as Rod Serling. Chain smoking cigarettes in front of a spooky door and a disembodied eyeball, Serling's Twilight Zone revolutionized television. Although his stories tended to contain a tad too much tedious moralizing, Serling attracted revolutionary talent like Richard Matheson and Charles Beaumont, paving the way for genre television for the next fifty years.
The man certainly deserves some post-mortem laurels, and now he's getting one: Rod Serling is amongst this year's inductees into the Science Fiction Hall of Fame. Founded in 1996, the Science Fiction Hall of Fame annually honors sci-fi's greatest creators, which last year included Ridley Scott, Gene Roddenberry and Gene Wolfe.
Serling will be inducted on a ceremony on June 21st in Seattle,
alongside book publishers Ian and Betty Ballantine and authors William
Gibson and Richard Powers. Good for him. Though he's currently lost in
a dimension past sight and sound, it's good to see that television's
most famous basso voce chain smoker is finally being recognized for his work.
SF Hall of Fame Inducts Sterling [SciFi Wire]
Read More