Rationalizing Life-Size Sci-Fi Statues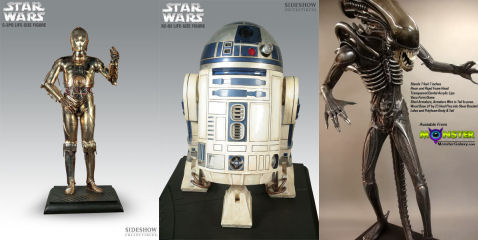 Not everyone can be a rich science fiction fan (I'm looking
at you, Paul Allen) so I have to wonder what Sideshow Collectibles and Monster
Galaxy are thinking when they decided to sell life-size Star Wars and Aliens
figures that sell for between $5,000 and $6,000.
Don't get me wrong, if I had a spare $16,000 to spend, I'd buy
these in less than a parsec.(I know
that's the improper usage of the word parsec.If George Lucas can do it, I can too.) Convincing the wife might be another issue... I suppose I could try to display it at the
office since it is, after all, "perfect for your home, office, or theater
room." But I'm thinking that's a
large chunk of change to spend just so my coworkers
can make fun of me — something they willingly do today for free.
Although I must admit that the fan inside of me wouldn't mind having some of
these. The trick in justifying such a
purchase is to find a way to make the object serve some useful function and not
be just a worthless trophy…
Take the 5′ 6″ C3PO
figure, for example. I'm sure it's
fun at parties. You could pop off his
head like in the prequel movies, kick it around a bit; maybe scare the
neighbors. His eyes light up, so at the
very least you could use it as a $6,000 night light. Then again, for that price I could have a
really nice home theater system.
Maybe I'd have better luck with the R2D2 figure. It's life-size, which in R2's case means just
over three feet high. That would be a
great height for an end table, except that R2 is round on top. I couldn't even use him to hold a beer. I would hope at $5,450 the droid could assist
with my getting drunk to ease the pain of a large, regrettable purchase.
Perhaps Monster Galaxy's life-size statue
of H.R. Giger's Alien might make more sense. He certainly looks cooler than the two
droids. And at an imposing 7′ 7″
tall, he's sure to keep prowlers away. And
I can't say enough about those "Transparent Dental Acrylic Lips." There's no reason for me not to buy it,
really. Oh yeah…the $5,200 price
tag. Here's the kicker: "Plus
shipping." Because spending $5K just
isn't quite enough…
Read More