Poltergeist II: Cracking the "Poltergeist Curse"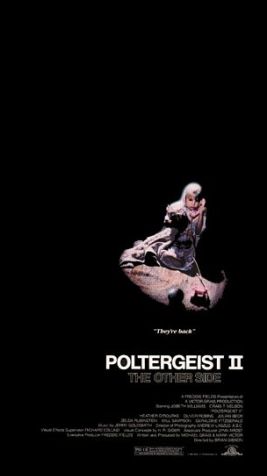 The "creepy child" character has become so prevalent in modern horror films that it has even developed its own sub-genres. There's the "creepy ghost child" ( The Ring ), "creepy demon child" (Damien from The Omen, all of the Children of the Corn ), and even the "creepy child creeped out by even creepier ghosts" ( The Sixth Sense , every horror film after it.)
But way before "I see dead people," young Heather O'Rourke was giving viewers nightmares simply by touching a staticky TV set and announcing that the Poltergeist were "here." (And later: "They're back" for Poltergeist II: The Other Side.) Adding to the creep factor of the franchise is the fabled "Poltergeist curse" that plagued cast and crew members after the completion of each installment. Whether or not you believe in such things, its hard to ignore the sheer number of real-life deaths attached to a film franchise notable for its lack of on-screen fatalities.
First, there was the tragic murder of actress Dominique Dunne (Dana Freeling) after filming wrapped on Poltergeist.
Then Julian Beck, who portrayed the demonic Reverend Kane in the
sequel, succumbed to stomach cancer. (A "Beast" version of his
character was created by artist H.R. Giger
to cover a few of Beck's unfinished scenes.) Finally, young Heather
O'Rourke passed away in 1988 from complications related to septic shock
(later discovered to be caused by Crohn's disease) during the
production of Poltergeist III. The close proximity of these deaths (as well as the passings of Poltergeist II star
Will Sampson and director Brian Gibson) have helped to fuel rumors of a
cursed production. (One popular theory suggests the use of actual
skeletons during filming of Poltergeist brought on the curse.)
Regardless of any real or imagined supernatural happenings, the Poltergeist films remain some of the best of the horror genre. Though with talk of an upcoming remake, here's hoping any skeletons in the film are created with computer effects. You know, just to be on the safe side.
Poltergeist II: The Other Side airs Saturday March 15 @ 3:15AM | 2:15C.
Read More