Philadelphia Film Festival Premieres Henenlotter's Bad Biology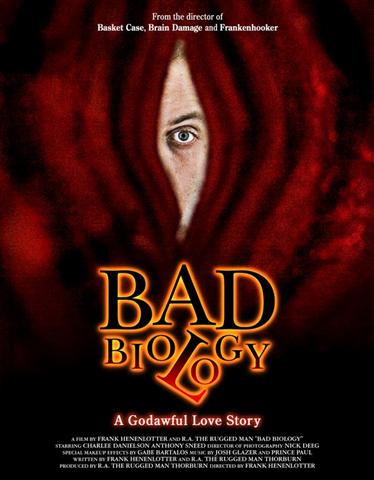 Earlier this week we told you about some of the genre offerings at this year's Tribeca Film Festival, and if you like paying Broadway show prices for second-rate movies, then knock yourself out. As for myself, I'm driving down to Philly to check out several of the selections at this year's Philadelphia Film Festival.
Phillyfest (as they like to call themselves), runs April 3-15 and has always had one of the best midnight horror selections of any fest I know. This year offers another batch of solid genre titles, including the world premiere of Bad Biology, the first film from legendary Basket Case director Frank Henenlotter in (jeez) 17 years.
By all accounts, Bad Biology's sex and violence is so extreme, they're going to have to create a new rating for it. In the past, however, Henenlotter has never cared about ratings or who he might possibly offend — which can only mean this one is a must-see.
It'll debut in Philadelphia, April 4. (And since it was edited by former Monsterfest contributor Scooter McCrae, we have to see it.)
Other highlights on the schedule include: Nacho Vigalando's Timecrimes; Stuart Gordon's Stuck; the doco Spine Tingler! The William Castle Story; the Chilean comic book action flick Mirageman; as well as Slamdance favorites Jack Brooks: Monster Slayer and Trailer Park of Terror. Phillyfest's reputation as one of the best fests for Asian horror continues with Black House from Korea, the Thai hit Epitath and another Thai film called The Sperm. (We're gonna leave that title alone.)
You can download a PDF of the entire festival guide here or check back at the Phillyfest website for updates in the next few days. If you live on the East Coast and can make it, go enjoy some cool flicks in the city of brotherly love this April. This is one fest that always does it right.
Read More