New Horror Host Wolfman Mac Haunts Detroit TV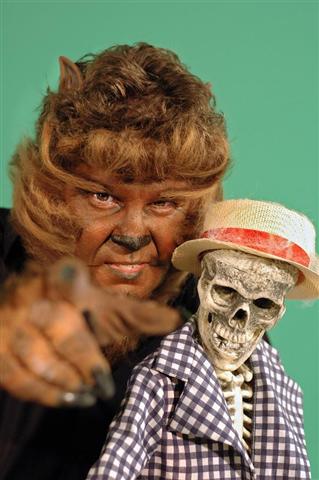 For the first time in my life, I wish I lived in Detroit.
The Motor City may be best known for great American cars and great American music, but now it's bringing back another all-American tradition — the late night TV horror host. The show, called Nightmare SINema hosted by "Wolfman Mac", features sketches, classic commercials, animated shorts and classic horror movies. It started airing on Detroit public access last year and recently began airing on the local "My" affiliate on Friday nights at 1 AM.
The brainchild of local DJ Mac Kelly, Nightmare SINema recalls the days of such great Detroit horror hosts as Sir Ghastly Graves and The Ghoul. Targeted for kids and nostalgic boomers, it currently airs public domain movies like The Brain That Wouldn't Die and Little Shop of Horrors . But the hope is that if the show prospers at its new home, they will be able license a classic or two — and maybe even move to a timeslot when most kids are actually awake.
I haven't seen much of the show, though there are some amusing clips on YouTube. But even if it were the worst TV had to offer, I would still want it to succeed simply because it would be great to have a TV horror host comeback. I
miss gawking at the likes of Son of Svengoolie and Zacherly, people who made horror movies fun for everyone young and old. Good
luck, Wolfman Mac, and remember: stay sick, turn blue, scratch glass,
climb the walls, just don't get caught.
Read More