MGM Says Robocop Sequel Coming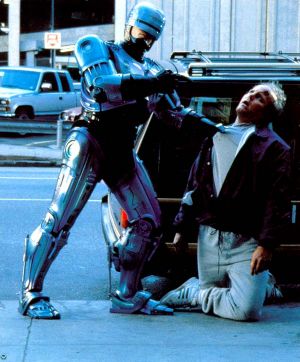 Who doesn't love Robocop? Those with their hands raised may flush themselves out the nearest airlock: We don't need your kind here.
Oh sure, the Robocop sequels were execrable mish-mashes. I can understand if you lost faith in the franchise after the first film. But Paul Verhoeven's Robocop is one of the perfect science-fiction vehicles — a sarcastic dystopian social commentary on the '80s with robots and ultra-violence thrown in for good measure. Note that the Robocop sequels ruined the Verhoeven touch just as readily as the Starship Troopers sequels did.
Perhaps that should be a lesson to Hollywood: What seems so easy is, in fact, extremely difficult to emulate. And they should take that lesson on board now: MGM has just announced that they are planning a fresh Robocop sequel.
That's tenatively exciting, but MGM needs to do a better job than Robocop 2 and especially Robocop 3. Robocop is a hard R franchise and is much, much more intelligent than it at first seems. Hell, guys, don't even try: Just bring back Verhoeven.
MGM Reviving RoboCop, Outer Limits [SciFi Wire]
Read More