Mermaid From Moscow Competes for Attention With Redford's Daughter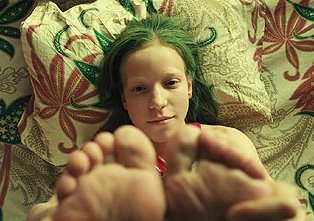 Among the films screening tonight at AFI Dallas is the acclaimed, Russian feature Mermaid. The movie concerns a young girl who leaves the seaside for the city where she has a fateful encounter with a businessman. Mermaid has been making the rounds on the festival circuit — director Anna Melikyan has picked up awards at Berlin and Sundance — and there's also been a lot of buzz concerning its shocking ending. (No one will tell me exactly what happens, so I assume its some sort of twist like the ones in The Crying Game or The Sixth Sense.) Variety compared it to Amelie while the Hollywood Reporter followed suit by calling it "sweet-natured." And while magic factors into the plot, Melikyan told the St. Petersburg-Times simply, "I showed Moscow the way I see it."

Playing at the same time is Amy Redford's directorial debut, The Guitar. The true-life story of a woman diagnosed with inoperable cancer, she then proceeds to drop out of society and reinvent herself… not the type of story you'd expect from Robert Redford's daughter. To learn more about the young Redford's first feature, check out her interview with Shootout when she premiered the film at her dad's fest earlier this year.
Lane Kneedler is a programmer at AFI FEST.
Read More