Meet the Un-Men: Swamp Things by Way of Frankenstein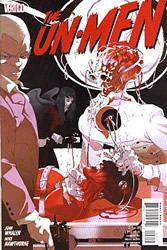 If you're a true fan of the classic '70s comic The Swamp Thing, then you'll appreciate Un-Men, which is based on some monstrous characters in the brilliant Len Wein/Bernie Wrightson creation.
Today on Comic Monsters, there's an interview with writer John Whalen, who talks about the first five issues and the Frankenstein-like creatures within.
Explains Whalen, "Led
by Arcane's former right-hand Un-Man, a brain on a fist named Cranius,
the Un-Men are now running a reservation for freaks in the American desert,
which they've converted into a huge tourist attraction called Aberrance,
USA." Un-Men is rife with some of the strangest looking beings ever to invade the pages of a comic book, including: Argus, who has a halo of human eyeballs tucked into holes that have been dug into his skull; Janus, and his son, Janus Jr., "who sprouts from his father's back
like a goiter with personality."
The comics will be collected into a paperback this April. How soon will it be before Hollywood options this one?
Read More