Lost Boys 2 Trailer Exceeds Expectations, Dashes Memories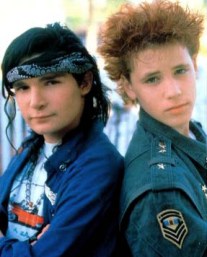 After watching the much-anticipated trailer for Lost Boys II: The Tribe, it's clear the danger isn't that it doesn't live up to the original– it's that it actually does. This trailer cuts through Lost Boys nostalgia like a hot blade, a grim reminder that the original was actually a lot cheesier and less coherent than you remember. In this case, creating a perfectly apt and serviceable sequel has proven to be the unkindest cut of all.
Stick around after the preview to watch Corey Feldman discusses the film at length. After all the speculation and snark (including my own), it's a bittersweet surprise to see that the underdog actor has found himself making a sequel that was actually worth his while. If only we could have had this and keep our youthful first impressions of the original!
Read More