Lake Monsters and James Van Der Beek in Eye of the Beast DVD Trailer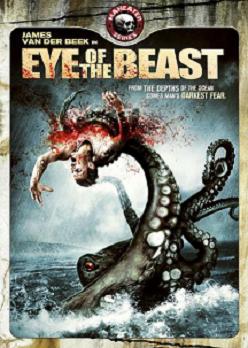 "At a remote lake, something in the water … is about to make waves." So begins the trailer for Eye of the Beast, the made for TV movie starring former Dawson's Creek hunk James Van Der Beek. His co-star? A famished, angry, red-eyed squid with a take-no-prisoners attitude. Here, the slimy tentacles crawl up the leg of a pretty, young woman on a date. Then, there's an echoing scream, the scream of death.
It all makes young James wary. A crusty fisherman at the water's edge warns, "Watch out for those lake monsters." But James is a pragmatic government scientist who doesn't believe in monsters — until the rampaging sea beast begins to murder and chomp away on an entire fishing village. Guns and ammunition can't hurt the water demon from the depths. But is the squid a match for the calculating mind of James Van Der Beek? Of course, there's the more pressing question: Will there be calamari for lunch? Find out when the film is released on DVD on April Fools Day.
Eye of the Beast Trailer [via Shock Till You Drop]
Read More