KISS NIGHT Is Gonna Rock 'n' Roll All Night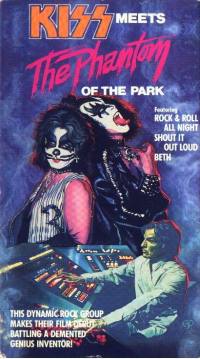 If you live in the New York area, check out the latest installment of The Sci Fi Screening Room. Last time we hosted an evening of all things Incredible Hulk. This Tuesday it's KISS Night as Kevin Maher (host of The Sci Fi Department) and Rob Gorden (host of Spike TV's Geek Ray Vision) present Kiss Meets the Phantom of the Park.
The made-for-TV movie was produced at the height of KISS-mania (1978). It follows Star Child, Cat Man, Space Ace and The Demon as they use their super powers (!?) to battle their robot clones and save Magic Mountain Amusement Park from a bitter former employee. The film co-stars Anthony Zerbe (the ghoul leader in The Omega Man) and features appearances by Brion James (Kowalski from Blade Runner) and Don Steel (the DJ from Death Race 2000).
After the screening the party continues at Lit Lounge with KISS
makeovers by make-up artist Misstress Harlequin, a performance by a
KISS tribute band, Creatures of the Night (featuring the Love Gun
Girls) and an open Vodka bar from 11 to midnight.
It all starts Tuesday night at 7. Get location details here
Read More