Silverado: The Mea Culpa That Launched Kevin Costner's Career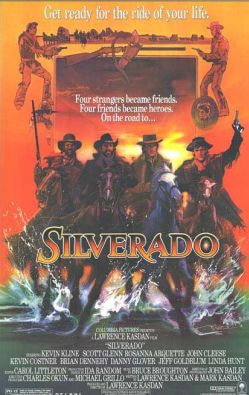 Blink and you'd miss it, but Kevin Costner actually did work with director Lawrence Kasdan before his breakthrough role as the outlaw Jake in Silverado. The future Mr. Crash Davis famously starred as the dead guy who inspired a group of pals to reunite and listen to a ton of Motown oldies in the director's seminal hit The Big Chill .
Flashback scenes featuring Costner's character Alex were filmed, but then presumably cut to make room for more Jeff Goldblum antics. (Costner's body is briefly seen as Alex's corpse is dressed in the
final cut of the film.)To make up for this slight, Kasdan offered Costner a lead role in Silverado opposite then on-the-rise stars Kevin Kline, Danny Glover, and Rosanna Arquette.
Costner, notorious for his occasional missteps, followed up Silverado with the lesser-seen gems American
Flyers and Sizzle Beach, U.S.A. But just a few years later, he would transform into the actor we know and love today with the three-way punch of The
Untouchables, No Way Out , and Bull Durham. As for Silverado, it continues to be the gift that keeps on giving as
its set was reused for Young Guns, Wyatt Earp , Lonesome
Dove and countless other Westerns.
You can check out this vintage Costner when Silverado airs tonight, March 25 @ 8PM | 7C. Check out the movie's full schedule this month .
Read More