Joss Whedon Introduces Doctor Horrible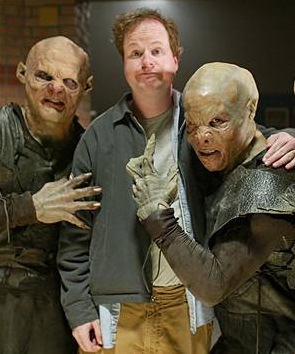 Good news, o ye Joss Whedon sycophants! The creator of Buffy, Angel, Firefly and the upcoming series Dollhouse has a new show coming… on YouTube only! Namely, a web-based superhero musical called Doctor Horrible's Sing-Along Blog.
Whedon explains over on his blog.
It's the story of a low-rent supervillain, the hero who keeps beating him up and the cute girl from the laundromat he's too shy to talk to… During the strike I started writing a musical intended as a limited internet series, three episodes of approximately 10 minutes each… To my shock and surprise, we finished it. To my greater shock and surprise, we managed (with the help of many people I'll be praising at length soon) to drag it into preproduction (yes, just as Dollhouse was given a start date two months away and all my comics were due). And today, after a grueling week of writing everything ever while trying to be a producer, I got to start shooting.
It features none other than Neil Patrick Harris as Dr. Horrible, Nathan Fillon (Firefly's Captain Malcolm Reynolds!) as Captain Hammer and Felicia Day as Penny.
My only regret: when I first read his blog, I thought it was called Doctor Who's Horrible Sing-Along Blog. Now whom amongst you wouldn't subscribe to that?
Doctor Horrible [Whedonesque]
Read More