J.J. Abrams' Star Trek Features Miniskirts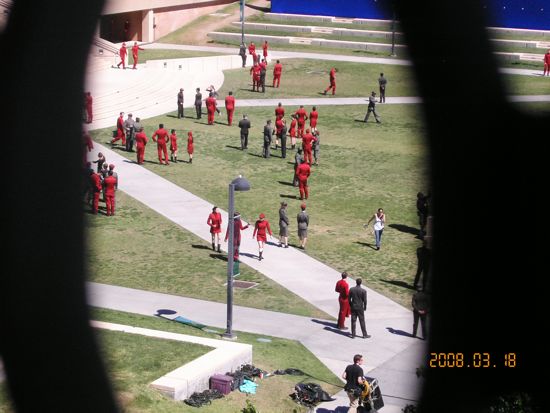 J.J. Abrams' can do whatever he wants to Star Trek as far as I'm concerned. He can build the Enterprise in Earth's orbit, he can make Uhura Indian or Sulu an Eskimo, he can make Spock and Kirk tongue-kiss. Whatever. Do it, J.J. Just leave the miniskirts alone.
For me, ubiquitous miniskirts are the sum totality of my vision of a perfect future. What future would possibly be worth living in without the constant sight of the pillars of mobile femininity?
Luckily, J.J. Abrams shares my vision for the future: The latest images leaked from the set of Star Trek XI indicate, yes, women will still wear miniskirts (or, given the distance, I suppose some of those could be men). Also, they drive very cool floating cars. It's a win!
Why do these shots from the filming of "Corporate Headquarters" look suspiciously like the Starfleet Academy? [Ain't It Cool]
Read More