How Cloverfield Destroyed New York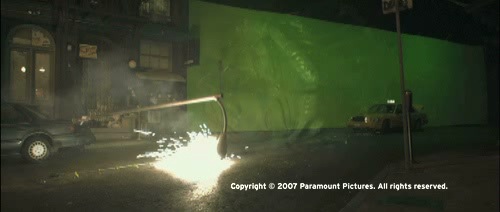 While I'm admittedly not a big fan of Cloverfield's monster design, one thing they absolutely nailed was convincingly capturing in first-person a giant monster attack on a major metropolis. Toppling towers, billowing smoke, collapsing bridges and decapitated Lady Liberties all helped give what is, in essence, a cheesy premise the sort of quiet, traumatic horror of September 11th.
The company that was responsible for destroying New York was Double Negative Visual Effects, which had previously worked on another (this time real) "destroy New York" picture, World Trade Center. And over at their official site, they've got a neat series of videos demonstrating how they did it.
Double Negative's main task was to wreak destructive havoc
upon New York City. Complex digital environments were built and then
attacked with a variety of in-house CG tools. Key scenes involved
creating well-known areas such as Park Avenue and high angle views
across the city. A detailed digital model of the Brooklyn Bridge was
built and then torn apart as refugees from the disaster attempt to flee
the rampaging monster and, in the signature shot for the movie, the
head of the Stature of Liberty was sent tumbling through the streets of
Manhattan.
It's basically a combination of empty city blocks, studio sets and
green screens, as you'd expect, but the videos are great: peeling back
the on-screen effects to let you see the Hollywood underneath.
Cloverfield [Digital Negative] (via io9)
Read More