Horror Surfer: Zombies Bear All but Demons Hide Inside Amy Winehouse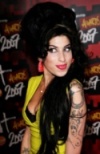 • LiveNews.com says Poltergeist producer Steven Spielberg is setting up a paranormal social network. Boogeyman meet Gozer. Gozer meet Boogeyman.
• The latest trend in horror: Dangerous dancers. Zombie Strippers, starring Jenna Jameson and Robert Englund, arrives in theatres on April 18 with the tagline: "They'll dance for a fee. but devour you for free." There's also the yet to be made, but highly anticipated, Live Girls, about a man who visits a strip club for the first time — and finds himself thirsting for more.
• "Amy Winehouse is in my opinion possessed." Reverend Bob Larson spoke with The Daily Star Sunday about his new reality show, The Real Exorcist, in which he fights demons with dangerous exorcisms.
• Dreadcentral.com thinks they have "the coolest Doomsday contest out there." To win, you'll have to prove yourself the most fashion forward. Hurry — the deadline to enter is March 14.
• Shocktilyoudrop.com reviews The Ruins. If you're worried that the "faithful adaptation" won't be as good as the novel — relax. It might even be better.
Read More