Horror Surfer: Turn It Up — Rue Morgue Radio, Buffy Reunion and Repo! The Genetic Opera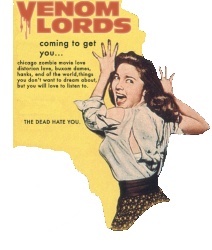 •
Prefer to hear your horror? Turn to Rue Morgue Radio and download an interview with Hatchet director, Adam Green.
•
TV Squad has detailed coverage of last week's Buffy the Vampire Slayer reunion. Find out who showed up, who didn't.
•
Everyone's talking about Repo! The Genetic Opera, including the film's star, Alexa Vega. Bloodydisgusting.com has the latest on the musical production they describe as "a rock 'em, sock 'em sensory overload."
•
Indie Chicago rockers, Venom Lords (they sound like Go-Go's gone wild), created a mini sci-fi, horror film, Dead Hate the Living. Listen to the Great Crumbwell warn us about the day when all analog TV signals will cease.
•
Here, the focus is on fiction and a bloody-good time. Salt Lake City prepares for the World Horror Convention, which starts this Thursday. Stay tuned to find out who wins this year's Bram Stoker Awards.
Read More