Horror Surfer: Clive Barker's Pretty Pictures, the Next Jason, and Guilty Pleasures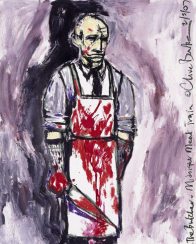 • I hope the art world has a strong stomach — Clive Barker has a solo show opening at the Sloan Fine Art Gallery in New York City this spring, including conceptual sketches for his upcoming The Midnight Meat Train. Enjoy the foie gras!
• The Friday the 13th remake has found its Jason. I think I'd rather not know what that audition entailed.
• J-horror's dread of technology grows a little more credible as hackers infect computers with flashing animation viruses, inflicting epileptic attacks and migraines upon innocent web browsers.
• Does the idea of Jesus rising from the dead after three days strike anyone else as being a little Romero-esque? Ask the makers of 3 Days Later, a musical that gives Jesus Christ Superstar the zombie treatment. So wrong, yet I can't look away…
• Horror bloggers 'fessing up about their guilty pleasures in the genre makes for entertaining public atonement. (Mine? I'll watch all of The Night of the Lepus to get to the part where the army of marauding giant bunnies hits those electrified train tracks.)
Read More