Horror at the Tribeca Film Festival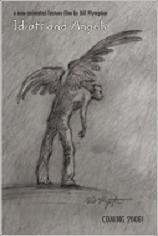 Horror will not be ignored at this year's Tribeca Film Festival. First up is Let The Right One In, which was featured two weeks ago here at MonsterFest. The story, about a 12-year-old boy who falls for the young vampire next door, is based on John Lunqvist's best selling book and is one of the highlights of the fest, according to today's Variety.
Also on the slate: Oscar-nominated animator Bill Plympton will premiere his darkest film to date, the completely hand drawn feature, Idiots and Angels. In the film, an evil, greedy man grows wings, but do the wings make him more or less of a monster? When the movie premieres, we'll all get the scoop.
The full list of films isn't up yet at the Festival site, but rest assured that once it's up, the schedule will be combed thoroughly for more horror offerings.
Read More