Heroes' Peter Petrelli Becomes Game's "Rick Rape"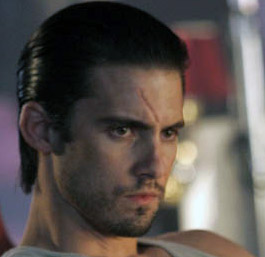 With his soft good looks and a number of wimpy roles to his credit (Rocky Balboa's whiny, weakling son; Heroes's protagonist pretty boy, Peter Petrelli), Milo Ventimiglia has had a hard time losing his Hollywood "good boy" image, no matter how many barely-legal four-foot-tall teenagers he dates.
Perhaps now he's overcompensating. Apparently, his next role will be in the sci-fi action flick Game, starring Gerard Butler and Amber Valleta and directed by the guys who did Crank. And he plays a character named, I swear to god, "Rick Rape."
Game will be a futuristic film in which Butler stars as an
unwilling prisoner in an online game in which players control human
beings in a very real death match. Which, you know, sounds suitably
ridiculous to be entertaining. But I'm not sure I can buy Milo
Ventimiglia as a bad guy, let alone one with as alliteratively
ridiculous a name as "Rick Rape." Milo's the kind of guy who spends
thirty minutes pouting when his pomade isn't exactly right… not
exactly the sort you imagine will be gouging out eyeballs and
shattering spines in a futuristic arena of grotesque physical violence.
Peter Petrelli Channels Sylar in New Movie [io9]
Read More