Have You Gotten The Look?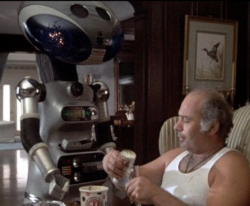 We've all gotten "the look" — the subtle, knowing, condescending gaze from others once they discover you are… a science-fiction fan. "The Look" is the subject of a new video that was featured at a recent education conference in Arizona.
Craig Jacobson's low-fi video works as a personal essay, but it also explores some big questions that fans have to face: Where do we draw the line between what is and isn't science-fiction? Is something automatically considered sci-fi just because it has an alien? Or a mad scientist? Or a time-machine? Rocky IV had a talking robot — does that count?
The "Sci-Fi or Horror?" question is something we talked about in our interview with George Romero. People will keep debating this stuff, so long as there are genre films.
Read More