Has Clive Barker's Midnight Meat Train Been Shelved?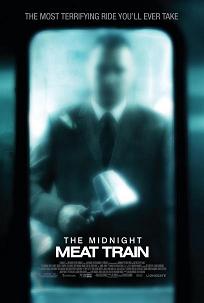 Today, Shock Till You Drop is reporting some disturbing news. Clive Barker's Midnight Meat Train, which was supposed to hit theaters in May, has been dropped. More upsetting is that Lionsgate hasn't yet offered up another release date, leading to speculation that the movie may go straight to DVD. The worst case scenario? It may never see the light of day (although that's probably unlikely).
According to Shock, neither Lionsgate nor director Ryuhei Kitamura wanted to release the flick against upcoming franchises like The Chronicles of Narnia: Prince Caspian. That may have signaled certain death for a movie that's well, full of death. The elegantly edited trailer reveals a complex story with some fine scares. But it's not so gruesome that it would prove to be too violent for mass consumption. Plus, Lionsgate never shies away from blood and guts: Just look at the recent Borderland DVD for proof. Here's hoping that Lionsgate will still find a home for Midnight Meat Train in its theatrical schedule. It looks like a perfect film for Halloween.
Read More