Giant Monsters Not Attacking Japan Any Time Soon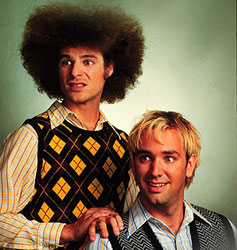 One of my most anticipated movies was going to be Trey Parker and Matt Stone's Giant Monsters Attack Japan!, a loving spoof of Japanese kaiju films, about an American child in Japan who learns that giant monsters do indeed attack all the time. Planned as a family-friendly, old-school effects showcase, it sounded like an inspired idea. I'm sick of Generation X filmmakers trying to remake their favorite movies from childhood, but with Parker, Stone and screenwriter J.F. Lawton behind it, how could it lose? Now it's looks like we may never know.
Out promoting the new season of South Park, Parker and Stone told The Onion
that they're not looking to do any more movies (live action or
animated) any time soon. Stone is quoted as saying, "If you're gonna do
a movie, you'd better be damn sure you want to do that movie, because
it's gonna suck to make. They are really, really tough to make." And
Parker says of Giant Monsters and another project-in-waiting,
"they're two things that we're working on to figure out which one we
really want to do." So, in short, don't hold your breath.
I've got a lot of respect for Parker and Stone and think that South Park
is still brilliant, but all this "movies are hard" crap? OK, that's
true, no doubt about it, but for pete's sake, guys, there are millions
of people, some of them talented, who would kill to be in your
position. Don't want to direct Giant Monsters Attack Japan!?
Produce it and give someone else a shot — someone who doesn't mind the
challenge. Nothing good comes easy, as the old saying goes; I'm sure South Park's no walk in the park, either, but it's also something to be proud of. Will Giant Monsters be the same? Hey, why don't you make it and find out?
Read More