Gerard Butler is Watchmen's Black Freighter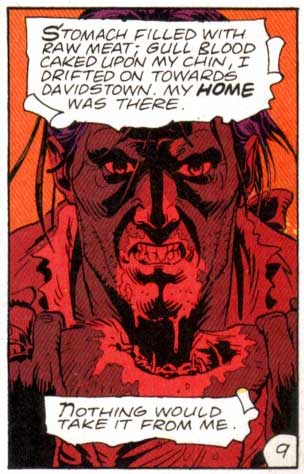 Alan Moore's revolutionary series Watchmen is the comic book form at its finest. The story of retired superheroes in an alternate '80s Cold War United States predestined towards nuclear war, it's also a perfect example of a project that has been stuck in Hollywood hell for almost two decades.
Zack Snyder was hired a while back to direct the film based on a 140 page script. This is a mistake: Snyder's films are over-stylized and execrable. Alan Moore, as usual, has no hope for the production, and has basically taken his name off of the project.
But there is one interesting development. Snyder has been planning to release an adaptation of the Black Freighter sub-comic in the original Watchmen.
The Black Freighter focuses on a
ship-wrecked pirate's attempts to escape a desert island upon a raft of
gas-bloated corpses, and warn his family about a ship of death. It was
meant as a metaphor for the comic's main plot, but was one of the first
things to be cut from the script.
Now, the word is that Snyder will be doing an animated adaptation of The Black Freighter with his old 300
co-star Gerard Butler as the protagonist. The animated version will be
available as a DVD extra. Unfortunately, Butler's in it: Expect a lot
of histrionic, mindless bellowing where action should be.
Gerard Butler Talks Black Freighter [Empire Online]
Read More