Gallery of Vintage Sci-Fi Fanzine Covers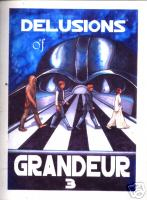 What did sci-fi fandom look like before the Internet? Hard to believe, but there was such a thing: Isolated islands of enthusiasm around which huddled cro-magnon conclaves of science fiction fans, warmed by the flickering fire of their communal passions. In the days before video and YouTube, these guys filmed home-movie remakes of films that they'd seen only a handful of times in the theaters, just so they could hook up their 16mm projectors in their garage and relive their favorite stories again and again. They communicated with other groups of fans through fan clubs. And before sci-fi blogs, they published crude and primitive but remarkably ornate fanzines as the literature of their cults.
Over at WFMU's Beware of the Blog, they've posted an enormous gallery of old sci-fi fanzine covers. There's a few hundred here, so the page will take time to load, but it'll be worth it — fanzines dedicated to Logan's Run, Star Wars, Star Trek, Doctor Who, Dark Shadow and more.
What astonishes me is how lovingly, intricately wrought the cover illustrations are, almost as a rule. Also, at least a couple (such as this one) indicate that sci-fi slash was a well evolved artform even before the advent of the Internet.
Early Science Fiction Fanzines: A Covery Gallery [WFMU]
Read More