Funny Games Poster: Is Black the New Red?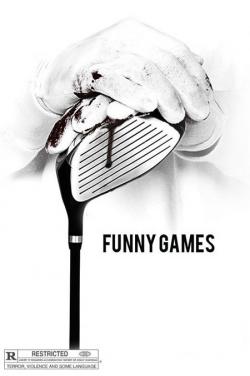 A quick look at this new poster for Michael Haneke's Funny Games (which opens March 14), might make you think it's about a golfer who strikes oil — a kind of There Will Be Blood meets Caddyshack. Or you might think that's mud on that golf club, but wrong again — that's supposed to be blood, and lots of it. So what gives?
The answer is simple: The MPAA does not allow images of blood on movie posters or in trailers that are intended for general audiences. More adventurous filmmakers will opt for "Red Band" trailers, to be shown only in front of R-rated movies, but the MPAA usually has filmmakers and distributors over a barrel as far as posters are concerned. Alter it to their specifications, or it doesn't get approved.
This isn't unusual: In the trailer to Kill Bill, Uma Thurman's blood-soaked outfit was color-corrected to black, while a large chunk of the climatic battle in Volume 1 went from color to B&W to make it "less bloody," — although all that did was make it even more violent by the power of suggestion. Scorsese did the same thing with the climax of Taxi Driver, but it's becoming so commonplace now, it's ridiculous. I understand that there are folks upset by the sight of blood and that it's not always good taste in an advertising campaign, but it's not fooling anyone. We horror fans often have to put up with a lot for the love of our genre, but this latest insult to our intelligence is starting to make my blood (which is red, by the way) boil.
Read More