From Optimist to Pragmatist, an Interview with Laurie Holden about The Mist
<img src="http://dev.blogs.amctv.com/wp-content/uploads/2008/03/MCDMIST_EC030_H.jpg" alt="" title="From Optimist to Pragmatist, an Interview with Laurie Holden about The Mist " width="560″/>

Among the DVDs being released today is Frank Darabont's version of Stephen King's The Mist . The landmark horror tale — about things
that go bump in that fog — is also about a government gone terribly wrong. In
fact, Darabont claims his film is somewhat of an allegory inspired by the
specious doings of the George Bush administration. Each character in the movie must
deal with a fear of the unknown in their own way. Some freak out, some call upon
religion for hope, and some rise to the occasion to become courageous and
brave. Laurie Holden's Amanda Dunfrey is among the latter, bucking up
under the pressure of the thick, killing mist and the monsters hidden within.
Darabont, who worked with Holden on The Majestic, contacted her directly for the role. The actress jumped at the chance to work with
the Oscar-nominated director again, but she knew she was in for "seat of your pants filmmaking." While The Majestic was a very planned,
very Hollywood movie, The Mist relied more upon indie-style guerilla
filmmaking. It was shot on a very tight
schedule, mainly in a supermarket, often without rehearsal. Says Holden, "We
were there for so many hours, that we started to eat the snacks that were on
the shelves. So they put up a sign that said, 'Don't eat the food.'"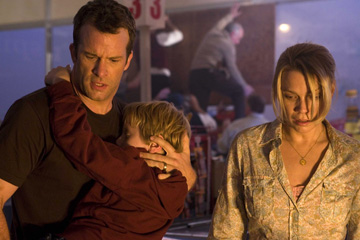 To prepare for the role of the third grade teacher who transitions from
optimist to pragmatist, Holden dug deep so she would
appear "very motherly" onscreen. "I read the
screenplay about
a hundred times," explains Holden. "I built a biography for my character. The beauty of
this
particular novella and Frank's screenplay is you get to know these
people in a
crisis. So there's not a lot of back story to these people prior to
this event."
While Holden was never trapped in fog or mist in real life,
her greatest fear is the dark, so she channeled that to prepare. "The mist and the dark are very similar," she says. "When you're in the mist, you
don't really feel that you're grounded.
You can't really see ahead of you."
Other fears? "I've never been a fan of sociopaths who have no conscience. That
scares me because they're capable of anything," reveals Holden. And while Marcia Gay Harden's Mrs.
Carmody isn't a serial killer, she does exhibit dangerous ultra-religious tendencies. Says Holden, "I
think Marsha's character is rather disturbed. I don't know if
you would call her a sociopath or just a frightened, sick woman. Her behavior
and her actions are quite terrifying."
While The Mist is perhaps Holden's darkest film to date, she has been involved in monster
movies since her career began. At the age of six, she was called in to act
with Rock Hudson in The Martian Chronicles after another actor dropped out. Prior to The Mist, she starred in Silent Hill, which also is rife with fog and mist (and is one of the few great
video game to movie adaptations). Still, Holden isn't really a big
fan of the genre: "I'm a bit of a scaredy cat. Personally, I don't
like to be kept up at night." That said, she is a fan of Stephen King, "I really love The Shining
and Carrie. I think he's an incredible storyteller. Being involved with a Stephen King/Frank
Darabont project is pretty fantastic."
Holden recently wrapped Meet Market, a romantic comedy about
the singles scene in Los Angeles.
But that doesn't mean she won't meet monsters again: There's talk that Darabont
will remake Fahrenheit 451 and has asked Holden to join the cast. If Darabont includes Ray
Bradbury's fierce Mechanical Hound, the eight-legged killing machine that wasn't
present in Truffaut's 1966 adaptation, the affable actress just might come face-to-face with horror once again. What keeps her coming back, despite
her aversion to being frightened? Perhaps it's her belief in the supernatural.
Holden admits, "I do believe in it. I think there's a lot that we don't
understand, a lot we can't explain that's out there."
Read More