Four TV Spots for Doomsday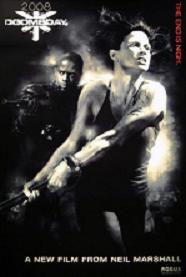 Shock Till You Drop just uploaded four TV spots for Neil Marshall's Doomsday, which opens next week. All the snippets feature Rhona Mitra, who's starred in everything from Hollow Man to Skinwalkers, acting tough as nails and ready to take on the ravages of the deadly Reaper virus. Of course, there's nothing about the Reaper virus in the clips, just on the web.
The first clip shows the Evangeline Lilly look-alike wielding a sword-like weapon and being interrogated. The last clip is the longest — and the best — featuring gritty, punky denizens of a quarantined area that has been ravaged by the virus. The weird thing? There's action, fisticuffs and monstrous-looking individuals, but I have no idea what the film is about from any of these segments. Am I right, or am I just thick today?
Read More