First Look: Monsters vs. Aliens to Divide, Conquer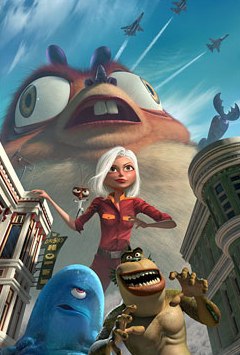 Dreamworks appears to have yet another animated super-hit on their hands with Monsters vs. Aliens (although it's guaranteed to start fights between the MonsterFest and SciFi Scanner blogs). USA Today has the first look at this creature-fest, due in March of 2009, which will pit Earth's bravest and beastliest against the worst that outer space has to offer.
Spoofing classic B-movies such as The Attack of the 50 Ft. Woman and starring a knockout cast including Reese Witherspoon, Seth Rogen, Will Arnett, and Steve Colbert (as the president, naturally), MvsA will represent a technological milestone in filmmaking as the first computer-animated film to be produced in 3D. Until now, 3D effects have been always been added later to films that were animated in the conventional style.
More 3D films have already announced than you can shake a stick at– is this the way of the future for all cinema, or just a fad like the old days of red-and-blue glasses? But most importantly, will SciFi Scanner be able to live with themselves when they see that I beat them to the punch on this story? Ooo, burn!
Read More