Enchanted Director Kevin Lima to Cast Spell on Spook's Apprentice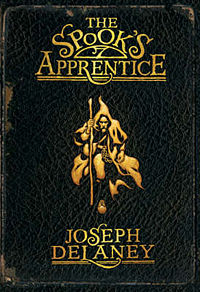 Boggarts, ghosts and witches, oh my! These are the beings which populate Joseph Delaney's Spook's Apprentice, the first book in a six-part series which Warner Bros. hopes will be as popular as the Harry Potter franchise. It was rumored that Tim Burton and Johnny Depp would team up to foist their own particular creativity upon young Tom Ward, the grizzled old Spook and the eerie The Dark. Instead, according to Variety, Warner has opted for the now-very-hot Kevin Lima (Enchanted) to direct the movie.
It's aimed at children, but if you look at user reviews on Amazon for Spook's Apprentice, you'll see that readers think the book is dark, for older kids and adults only. You'll really get a start out of Bony Lizzie, a nercromancer who uses the bones of her enemies to cast spells. Then, there's the witch, Mother Malkin, who lures young girls into her home only to suck the blood out of them to make her appear younger — obviously a reference to real-life serial killer Elizabeth Bathory.
Read More